rF LiveBroadcast with Chad Silverstein of [re]start
What is [re]start?
[re]start is a career development platform that provides job seekers with resources to find jobs that will make them happy and meet their needs. It's also a tool for employers to build valuable relationships with potential employees and professionals.
Last Friday, Tony Jones spoke with Chad Silverstein, Founder and CEO of [re]start, to uncover the meaning behind his work.
The Beginning: Chad's Role with Choice Recovery
Chad started out his journey as a collection agent while attending college at Ohio State. He founded Choice Recovery in 1997, which is a collection agency that serves mainly healthcare organizations. In this role, he quickly realized that the biggest challenge for employees in this industry was its negative connotation. "My vision was to change the perception of collections," explains Chad, "…being nice just wasn't good enough."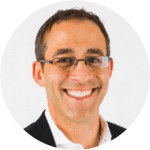 Chad Silverstein




Founder of Choice Recovery and [re]start
In his effort to transform the collection agency's image, Chad started by uncovering the reasoning behind this negative stereotype. He recognized that so many of the people he encountered who had fallen behind on their payments were facing the same situations — either they suddenly lost their jobs and lacked the income to pay their bills while still meeting the basic needs of their families, or they were employed and not making enough at their current job.
Furthermore, Chad changed Choice Recovery into an agency that helped people, not just the companies they were collecting money for. He did this by stepping out of his role with the collection agency and launching [re]start in 2013.
The Philosophy Behind [re]start
Chad built [re]start not just to be like any other job board or application. He wanted it to be more like a dating site, where employers and job seekers can find their "match". 
"There's thousands of jobs available, but how many great jobs can make you happy?"
—Chad Silverstein, Founder and CEO of [re]start            
According to him, the disconnect created between job seekers and employers due to the automation of job search systems is the reason why so many people end up in jobs where they aren't happy. To curb this issue, he designed [re]start to make the job search process engaging for both job seekers and employers. 
What also makes [re]start unique is that it is free for both employers and job seekers to use, although job seekers must have a referral from a sponsor in order to gain access. [re]start is paid for by sponsors who use the platform to offer services to their own customers. 
From a job seeker's perspective, how does [re]start work?
Once job seekers are referred to [re]start, they can receive access to its network of over 2000 employers, all of which are companies voted to be "best places to work" by employees. [re]start builds a professional profile for job seekers to reach out to potential employers, offers career development services, training opportunities, and other resources to enable them to find jobs that will make them happy. 
Chad and [re]start have helped create almost 800 matches between job seekers and employers to date. 

More Information and Getting Involved with [re]start