rF LiveBroadcast with Michael Bowers of the Ohio SBDC at Columbus State Community College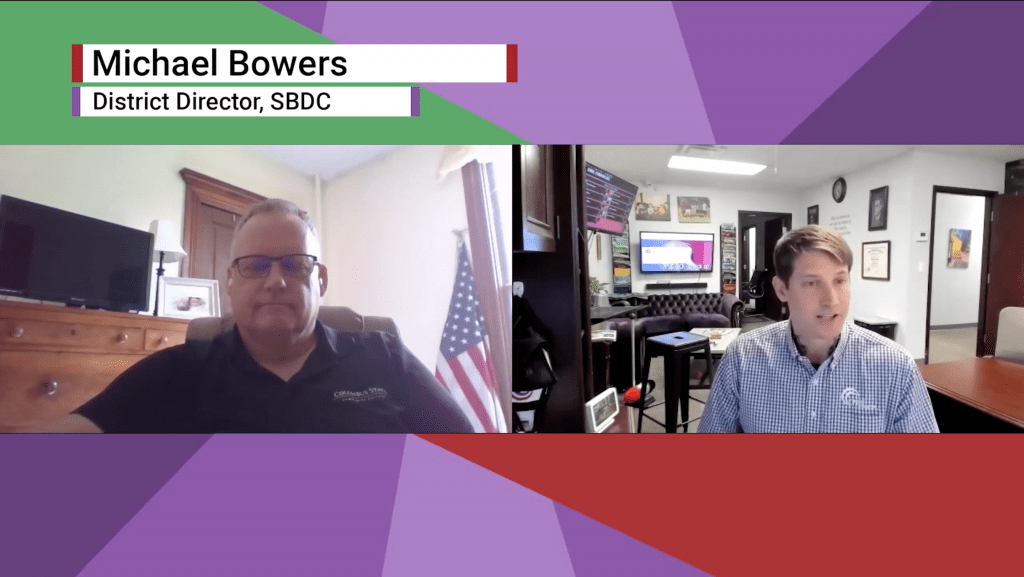 What is the Small Business Development Center (SBDC)?
The Small Business Development Center, or SBDC, is a grant-funded national program. Most of their funds come from the SBA. There are many small business development centers in the nation, including numerous ones in Ohio. 
Michael Bowers is the Director of Ohio SBDC at Columbus State Community College. Michael recently sat down with Phil Ratcliff of rebel Financial to talk about the Ohio SBDC branch. The SBDC helps small businesses with all facets of running a business, including growing businesses from an idea. 
The primary function of the SBDC is to advise individuals about all aspects of their business. The advice is free and can get you started on the right foot. Formal training is another main function of the SBDC.  They help educate small business owners with the goal of increasing their business acumen. 
Both aspects of the SBDC are important to entrepreneurs who might be moving into unknown business territories. 
According to Michael, the SBDC in Central Ohio helps thousands of people each year.  Generally, they have helped "more traditional businesses" such as mom and pop startups, service or food-based establishments, and retail shops.  However, there are many businesses outside of this group that they have helped as well.
As people continue to innovate and come up with new ideas, new business opportunities arise. The services provided by the SBDC are wide-ranging. The help can range from helping business owners assess their business, market research, and many more things.
To set up a meeting as an existing business, you can call the SBDC at Columbus State Community College at (614)-287-5294, email sbdc@cscc.edu, or go to the website https://sbdccolumbus.com/. Startups can go directly to the website and apply the steps listed there. Again, all advising is free to you since this is a publicly funded program. 
What's Changed with COVID?
The biggest issue concerning small businesses now is uncertainty. The impact of a recession on small businesses is scary, but typically you are still able to reach out to customers. With COVID, many businesses were forced to shut down, leaving them out in the cold. It's also much harder to reach out to people in this pandemic than in a typical recession. For many businesses the future is unclear. Customers may be less likely to shop in person due to their own concerns about contracting the illness. You must be able to adapt as a small business. 
According to Bowers, another government-mandated shutdown could force many small businesses out of business. Even as groups like the Ohio Restaurant Association do their best to deal with social distancing issues, as well as general safety concerns regarding COVID. 
Franklin County and Columbus have a grant program out to the end of August. The numbers that chose to put in their information but then didn't take the money were shockingly high. The issue with all of the loans that were coming out was that many business owners did not understand their use or the ramifications of taking a certain loan. The PPE small business loan was a major buzzword in pandemic relief, but many people lacked proper knowledge of what each loan was for. This could be a large reason as to why so much money was left unclaimed.
Although times are tough now, it is also a good time for entrepreneurialism. Many companies were able to switch to making PPE products in the face of a global pandemic. And new business models and ideas have already formed, and continue to form since this pandemic.
How are Businesses Matched with Advisors?
The core advising group is a general staff through the college that is able to work generally with most business ventures, but certain people have their strengths in certain fields. Whichever field the individual is most looking for, is who they are matched with. 
Currently, through the CARES Act, 12 more advisors have joined the SBDC at the Columbus State Community College branch. 
Typically, people will use the services for a brief period of time and then come back after they run into a new issue or anything else they might need. The SBDC provides a free service of advising but does not specifically make the changes for the businesses.
KIVA Columbus
Over the last several years, the micro-loan market has sprung up to help small businesses raise money.   Kiva is a microloan service that can work at an international level.  It can also work at a local level like Kiva Columbus. Organizations that are chosen are not done so in the normal credit review process.  Instead, as Michael Bowers points out, Kiva relies on "social credits" so that investors can decide what business or causes they want to support with loans.  The loans can be for as much as $15,000.
The Columbus SBDC is the only SBDC in the country that has a Kiva account. They help you make a plan as well as helping you to get the money to execute said plan. 
Want to Know More?
If you have a small business and want to learn more about the SBDC at Columbus State Community College, visit their website here. Also, if you missed our LiveBroadcast last Friday, watch it below to learn more about the Ohio SBDC. Connect with the Ohio SBDC on Facebook or watch their Progress, Not Panic videos.