[vc_row][vc_column][vc_column_text]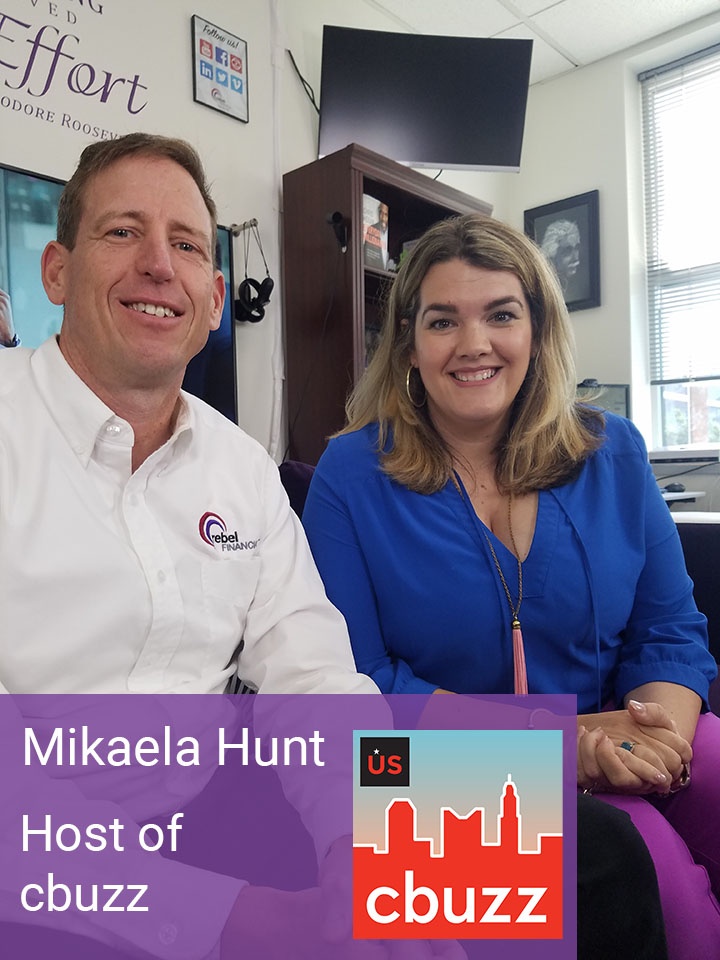 Mikaela Hunt is the current hostess of Columbus's first business-themed podcast called cbuzz. 
Mikaela's Story 
Who is Mikaela Hunt? She is a former news anchor and reporter, turned brand journalist. Hunt was forced to change her career path after abruptly being let go from NBC4. Eventually, she founded her own company Mikaela Media, despite the difficult journey getting there. 
Shortly After being let go, Hunt tried understand why this was happening and why now. Consequently,  she was pushed out of her comfort zone. This caused her to take risks that she wouldn't have otherwise. In result, these events led her to becoming the hostess of the podcast, cbuzz. 
Involvement in the community
Hunt is passionate about being involved in the community.  A group she is part of is NAWBO (National Association of Women Business Owners) Columbus, Ohio. Through networking and support from peers, this chapter helped launch Hunt's business forward several years ago.
Hunt also has given Ted Talks which have inspired many others. In 2016, she spoke about her story after her TV career ended. Additional, Mikaela explained how she transformed her own life as she faced adversity. Ultimately, Hunt created a new pattern and a new norm for herself.[/vc_column_text][vc_empty_space][vc_btn title="Ted Talk" color="green" link="url:https%3A%2F%2Fwww.youtube.com%2Fwatch%3Fv%3DIItFSq0uWe8%20||target:%20_blank|"][vc_empty_space][vc_column_text]
What is cbuzz?
cbuzz is a podcast produced by The Columbus Chamber of Commerce and Capital University. It is a business-themed podcast and the first of its kind in Central Ohio. Each episode focuses on the Columbus business community as Hunt visits with owners. Examples of a few topics covered are, "Recognizing Opportunity, Establishing Connections, Moving Forward, Power of Storytelling and various others." 
The Perfect Match
Mikaela Hunt is the perfect hostess for cbuzz because she is an entrepreneur herself. Therefore, this allows her to relate to the business community. Furthermore, her background as a news anchor, reporter and brand journalist contribute to her success in this position. Hunt not only relates to her podcast guests but she captivates her audience through the sincere devotion she has for the Columbus community.
Authentic Storytelling
While Hunt has worked several types of jobs, she consistently does one thing in each of them. Mikaela is an authentic storyteller and empowers others to do the same.
As mentioned above, Hunt took charge of her life and was an "architect of change" when things didn't go as planned. As she did this, she began to tell her authentic story to others. For Mikaela Media, the mission is to help their clients tell their story online and connect with their audience. 
Conclusion
Above all, Mikaela Hunt teaches a lesson applicable to every single person in this world. We as humans cannot avoid change and going through life-altering events is inevitable. What we are in control of is how we improve our situation and move forward. [/vc_column_text][vc_empty_space][vc_btn title="Mikaela Media" color="violet" link="url:https%3A%2F%2Fwww.mikaelahunt.com%2F||target:%20_blank|"][vc_btn title="Broadcast" color="violet" link="url:https%3A%2F%2Fwww.youtube.com%2Fwatch%3Fv%3DNQ4_GCNz1-k||target:%20_blank|"][vc_btn title="cbuzz" color="violet" link="url:https%3A%2F%2Fcolumbus.org%2Fresources%2Fpodcasts%2F||target:%20_blank|"][/vc_column][/vc_row]