[vc_row][vc_column][vc_video link="https://www.youtube.com/watch?v=-jTTj9q7kQU&t=5s" align="center"][vc_empty_space][vc_column_text]Danella Hicks, the founder and Executive Director of All THAT (a youth-mentoring nonprofit) shows her compassion in our office interview with her Friday morning.
A Detroit native, Danella served in the U.S. Army for 4 years and gained a CPA certification (Certified Public Accountant) before founding All THAT in late winter of 2009. Raising eleven kids, Danella's awareness and knowledge of children has given her the effectiveness to mentor troubled teenagers in Columbus, Ohio.
"Our kids are not thinking long term. They are thinking, 'I need to survive'," says Danella. The major issue she sees in at-risk youth is kids having to face adult problems when they are still learning how to be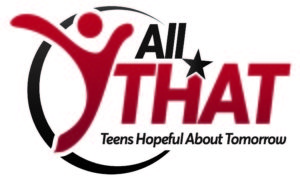 a kid. "If I don't have food to eat…I want to take care of myself. I want to look like everybody else. I want to shop." Danella puts into perspective how these at-risk youth think and are struggling to make choices that help their future when they are bombarded by problems that interrupt their everyday life. All THAT wants to help these kids set goals and break that cycle that is causing a lot of families in poverty  to continue the endless generational struggle. "A lot of our kids have experienced very traumatic things" says Danella. "By the time they're teenagers, if they don't think they are able to make it out, then there is no reason to go to school…They get tired of trying….we hold their hand and walk with them. We are showing them what is possible".
"Be your best self everyday" is one of the things Danella tells the youth. She wants kids to be proud and be excited for the potential of their future.
One of the major struggles Danella is facing today with her organization is transportation. She mentioned before our interview that a lot of kids are scared to travel within their own neighborhood and heavily rely on safe transport to attend school and the All THAT mentoring programs. Columbus City Schools aids in dropping off kids to All THAT's after school program, but the struggle still remains in getting kids home safely afterwards. "We lease vans," says Danella, "but it is expensive". Currently, ALL THAT only has one vehicle in their name and leases the others, making it drastically expensive to run the organization and provide safe transport. She has high hopes and is insightful when the organization has its own reliable transportation.
Their current goal for 2019 is to raise funds for their summer programs. Danella explains that during the summer, All THAT focuses heavily on workforce development for her teens and wants to help older teens get their first job. The incentive 8 week program starts soon and the funding is heavily appreciated to make it successful. You can use the JustDiidz app, locally coded in Columbus, to give direct donations to nonprofit organizations without the hassle of a processing fee. You can download the app for Apple or Android devices here: https://justdiidz.com/ 
If you are looking for a way to get involved, Danella really needs more mentors! OSU Student Life and Off The Lake offers plenty of opportunities for students to participate in mentoring. You can check out all of their programs and also become a mentor on the official All THAT website: http://all-that.org/
Watch our broadcast to listen in on the full interview.[/vc_column_text][/vc_column][/vc_row]