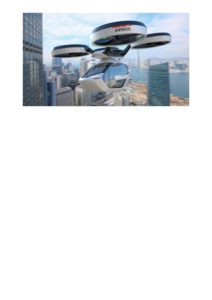 The advent of driverless cars has made the future look awfully confusing. Will you even OWN a car ten years in the future, when all you'll have to do is pull out your phone and request an automated ride to wherever you want to go? Will there be automated drones that fly above the streets?
Perhaps the clearest picture of the next transportation era has been unveiled by the Airbus organization—the European consortium that makes commercial airplanes. Airbus has recently demonstrated how you will be picked up at your home in a vehicle that looks like a futuristic car. Then, at a transit site, a three-fanned drone will latch onto the car, lifting it from its wheels to take you dozens or even hundreds of miles away. The drone will deposit the cab you're riding in onto another set of wheels, which will take you on the streets to your final destination.
The technology will go on trial sometime within the next ten years, with battery technology cited as the biggest hurdle to full implementation.
Source:
http://www.impactlab.net/2017/03/20/airbus-pop-up-concept-may-be-the-best-flying-car-proposal-to-date/