The World Wid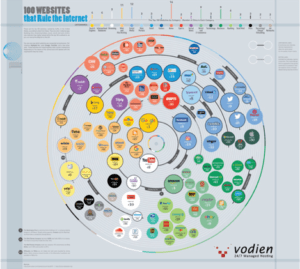 e Web casts a pretty large net: we now have more than 1.1 billion websites featuring 4.48 billion pages—up from one website in 1991.
But when you look at web traffic, most of us actually visit one of the 100 most popular sites. Google controls four of those: Google itself, with 28 billion visits a year, Youtube.com, which brings in 20.5 billion visits a year, plus Blogger and Google User Content. A site with just one million visits per month is ranked somewhat lower: it would be the 33,000th most popular site.
The graphic shows that the "spoils" (or "eyeballs") on the Web tend to go to the very top of the food chain, and there are millions of websites that almost no one (except Google's automated crawler) has ever seen.
Sources:
http://www.worldwidewebsize.com/
http://www.internetlivestats.com/total-number-of-websites/
http://www.visualcapitalist.com/100-websites-rule-internet/