U.S. Employment History
Work History
When you hear that the workplace of the future is going to dramatically change (due to automation and artificial intelligence), do you ever wonder how the jobs picture has changed over the past 165 years?
Recently, the McKinsey Global Institute pored over old records dating back to 1850 and thereafter, to see how the U.S. employment has changed when measured by industrial sector. The chart shows what they found, but it might be easier just to realize that the biggest employment decline was in agriculture and farming. Mechanization like tractors, combines and harvesters destroyed so many farming jobs over the 165 year period that agriculture's share of the workforce has declined 55.9%—which is another way of saying that we are getting a lot more crops with a lot less human labor.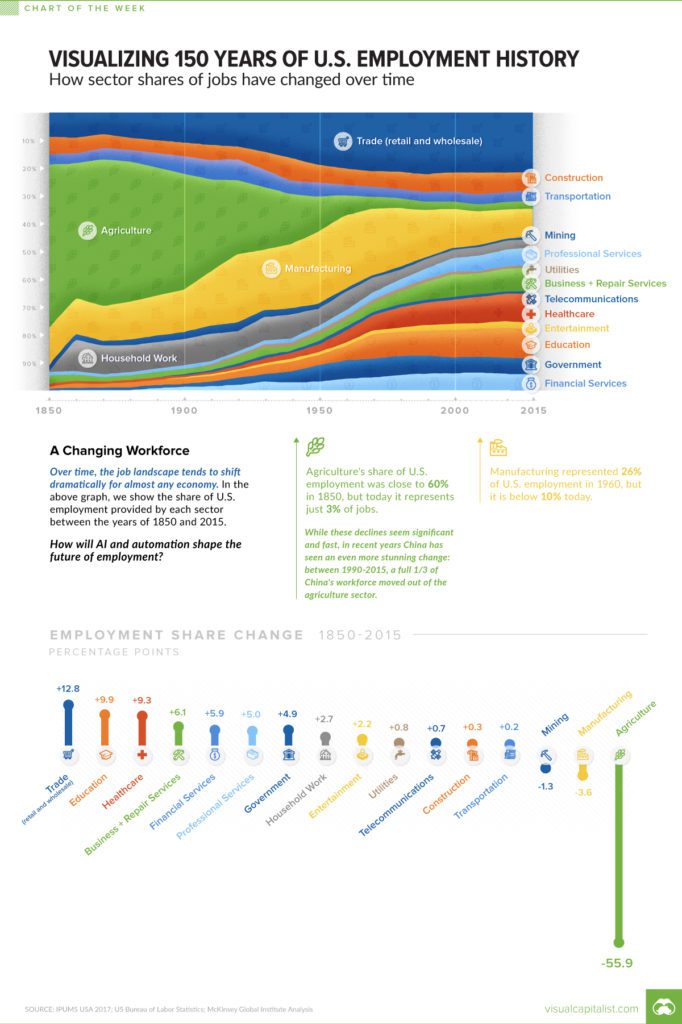 Due to automation and more efficient production, and outsourcing abroad, manufacturing jobs have declined as well, but you might be surprised that total manufacturing employment is down just 3.6% (in terms of total workforce participation) from 150 years ago. But that's misleading; in 1960, factory jobs made up 26% of all American employment. As the U.S. became the world's leading economy, manufacturing became one of its largest job producers, and has since declined. If robots and factory floor automation take hold, this trend should continue even if more goods are produced domestically.(Do you own a business? Learn more NOW about financially planning this!)
The biggest gains in U.S. employment have come from trade (wholesale and retail), which has gained 12.8% share of the labor force over the past 16 and a half decades, followed by education (9.9%), health care (9.3%), business and repair services (6.1%), financial services (5.9%), professional services (5.0%) and government (4.9%). Entertainment makes up a 2.2% greater share of the workforce than it did back in 1850, and there were modest gains in utilities, telecommunications, construction and transportation, while mining declined a bit.
The shift in employment statistics since 1850 has been largely the result of mechanization, of increasingly sophisticated machinery, and you can see that the changes have been significant if not tremendously dramatic. The question that the McKinsey report did NOT answer is what changes will be wrought by increasingly sophisticated computer capabilities, information transfer, biotech and other manifestations of our increasingly knowledge-based economy.