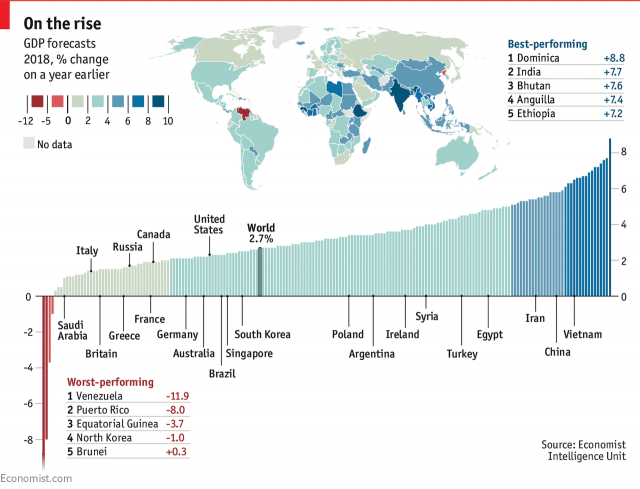 A Healthy Year Ahead?
According to professional forecasters around the world, the global economic landscape is healthy going into 2018—so much so that only three countries and one territory are expected to experience a downturn in their gross domestic product over the coming 12 months. The map and chart show which countries are growing fastest (light, dark and darker blue), and which are lagging the rest of the world (light green and red). The laggards include Venezuela (projected to lose 11.9% of production in the next 12 months); the hurricane-ravaged territory of Puerto Rico (-8.0%); Equatorial Guinea (-3.7%); and North Korea (-1.0%).
At the other end of the scale, Dominica (+8.8%), India (+7.7%), Bhutan (+7.6%), Anguilla (+7.4%) and Ethiopia (+7.2%) are expected to experience the fastest growth.
By the largely blue and green color of the global map, you can see what a healthy economic world looks like—a nice contrast to the chain of collapse that we experienced in the Great Recession after years of Wall Street speculation came home to roost. If you're rooting for the U.S. to win this race, however, you could be disappointed; the projections for American economic growth come in well behind the global average of 2.7%.
Source:
https://www.economist.com/blogs/graphicdetail/2018/01/daily-chart-3?fsrc=scn/tw/te/bl/ed/