Healthy Earnings – For Now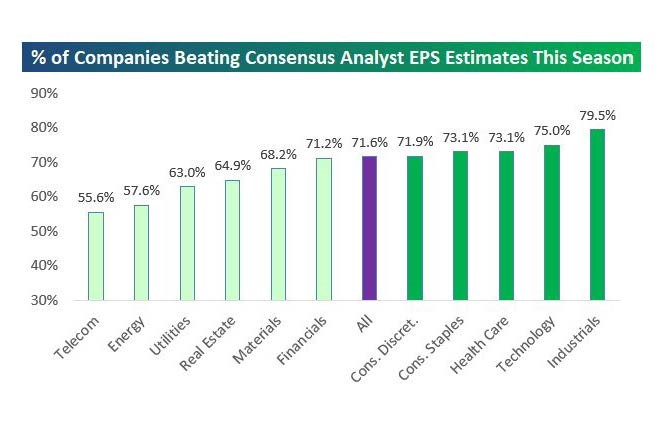 Professional investors are constantly trying to figure out whether the U.S. economy is healthy or sliding toward a recession.  The most important tea leaves they read are actual corporate earnings vs. the earnings estimates provided by Wall Street analysts.  Surprises on the upside are generally considered to be positive signs, while earnings below what analysts expected are potentially warning us that the economy is growing sickly.
The results of 2017 are giving them an upbeat signal.  The percentage of public companies that have beaten their consensus earnings reached 71.6%.   To put that in perspective, any reading above 70% is considered strong relative to past earnings seasons.  But as you can see from the chart, not every corporate sector shared equally in the upside.  Companies in the industrials, technology, healthcare and consumer staples sectors appear to be robust, while the news is not as good for telecom, energy, utilities and real estate companies.
For most of us, this is nothing more than interesting news, since the most successful investors regard attempts to time the market to be a fool's game.  But there may be some comfort in having reason to believe that the next recession is not right around the corner, and that the investment climate still seems to be relatively sunny.
Source:
https://www.bespokepremium.com/think-big-blog/industrials-technology-beating-earnings-at-the-highest-rate/