How to Protect your Health and Finances During the Pandemic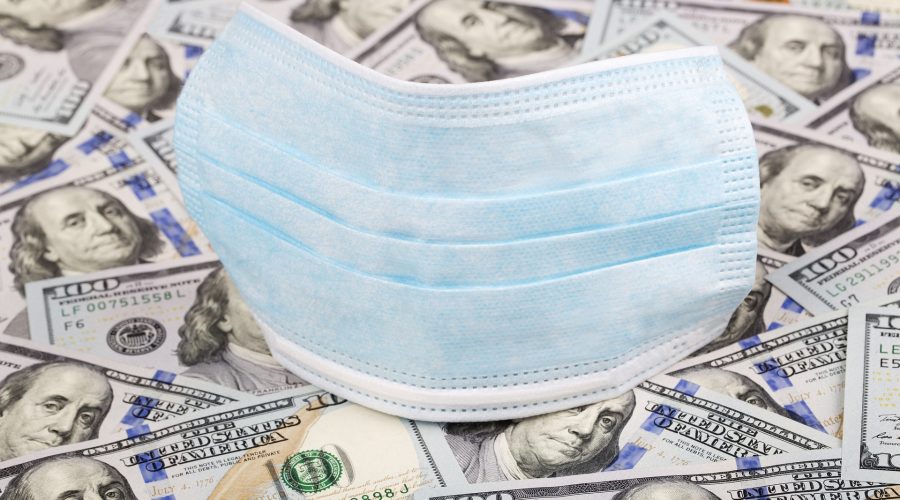 Even after almost one year of living amidst a worldwide pandemic, many of us are still struggling with this change in our daily lifestyles and habits. Healthcare advocacy has since focused on slowing the spread of the virus, and it seems that basic fitness and wellness concerns have been pushed to the wayside, and understandably so. 
Despite the health concerns and detriments evoked by COVID-19, heart disease and cancer remain the leading causes of death in the United States based on 2020 data. The unfortunate truth is that the populations affected by these diseases face a much higher risk of exacerbated illness from COVID-19, and cancer and heart disease may be much less preventable by comparison. According to Tony's analogy in Health and Wellness Through the Pandemic, health is a scale from 0-100, and we're all somewhere in the middle with the ultimate goal of moving higher up on the scale. All this considered, health should be a priority for us during this time, and healthy habits should not be limited to slowing the spread alone. 
In 2020, the United States adult obesity rate topped 40% for the first time, meaning that roughly two in five Americans over the age of 18 has a BMI over 30%. Food insecurity linked to COVID-19 may be one of the leading causes for this spike. Also important to consider is the negative emotional impact of the pandemic's curfew and isolation requirements, which has likely had significant effects on dietary habits as well, even in food-secure groups. As a result, health is not the only category in which people are suffering during this time. 
Financial implications of obesity during the pandemic
Obesity has further implications outside of health alone. From a financial standpoint, obesity brings a much higher risk profile with it, particularly when it comes to the cost of and ability to obtain health and life insurance. Even outside of insurance, the monetary cost of obesity can be substantial.
While both obese males and females face higher direct medical costs than average as a result of obesity-related problems, obese men and women face a disproportionate amount of job-related costs annually as a result of this condition. According to the STOP Obesity Alliance, obese women face higher annual costs than men do on average as a direct result of obesity, which include job-related costs, more specifically, lost wages. Obese men, on the other hand, take on lower average annual costs, made up of mostly medical treatment spending. Due to the implications that obesity has on health insurance coverage, these extra costs may be extremely hard to overcome, especially for low-income individuals. 
Having health insurance is all the more important during the pandemic, although being unemployed can make it more difficult to obtain. Healthcare costs vary widely for different people, and health matters in determining your cost and ability to obtain health insurance. Moreover, not all medical treatment for obesity may be covered by insurance, and the coverage varies by type as well as provider. 
As a financial firm, we aren't here to give you medical advice, however, there are some "best practices" you can follow to help protect your health. The CDC recommends 150 minutes of moderate exercise per week, or 75 minutes of intensive physical activity to contribute to your wellness. Considering the coronavirus' role in obesity, employment, and healthcare coverage, staying in good shape can help control your healthcare costs. Financially, on the other hand, there are steps that we recommend you take to help offer you extra security during the pandemic. 
Obtain a life insurance policy if you don't have one already.
While many of us don't like to think about the harsh reality, the truth is that we won't be here forever. That's why it's important to plan early while you can because when your time comes, many financial circumstances may be out of your control, leaving you and your loved ones in a tough situation. Life insurance is also extremely important for business owners and can provide financial security in the case of an unfortunate event. 
Another reason to note why it's important to obtain life insurance early on is that waiting can decrease your chances of getting it, especially if you are facing certain health conditions such as obesity. Waiting longer to apply for life insurance makes it harder to qualify as your quality of health begins to decrease, and even if you do qualify, your quote will likely increase the older you get. 
We also recommend obtaining life insurance outside of work, as losing your job may result in the loss of your life insurance policy also. To be safe, you should obtain private life insurance, if possible, to maximize the security provided by your insurer.
Obtain long term care insurance.
Long term care insurance is particularly important to obtain early and while you are in good health because poor health can disqualify you from being eligible. If you are already receiving long term care for a health condition or disability, coverage for those expenses are case specific and are, by no means, all-inclusive. Do your research before committing to a policy to see how your qualifications for coverage compare.
Finally, take advantage of wellness incentives offered by your employer.
Many employers offer incentives for healthy lifestyle habits, which aren't always limited to discounted health insurance premiums. Some of these wellness program incentives also include discounts or reimbursements for gym memberships, health coaching, and gift cards. If you're unsure if your employer has a wellness program in place, just ask! There's no reason not to take advantage of these benefits, especially if you already qualify. Now is a great time to start taking action to better your health, and a wellness program may give you the motivation you need to do so.