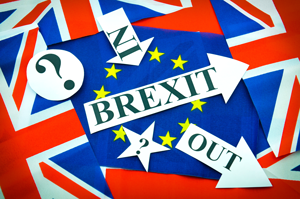 Remember Brexit?  Of course you do.  Many short-term traders thought the sky was falling when British voters unexpectedly decided to opt their country out of the European Union.  But the process of extricating the British economy from the complexities of European membership has been deliberate and thoughtful—on both sides.  
Recently, the UK's new Brexit minister, David Davis, told reporters that the government plans to examine whether the country will continue to honor the customs agreements it has in place with European nations, or not, before it will invoke the Article 50 clause of the EU agreement.  You can understand the complexity of the Brexit ministry's job (sorting through how it wants to restructure economic relations between England and the Eurozone) by the fact that the ministry currently employs 180 economists and other staff in London, and has access to 120 officials in Brussels.  Don't expect them to do anything rash.
If Britain decides to opt out of some or all of the EU customs agreements, it will be free to sign new trade agreements with the U.S., China, Japan and other nations, but could face additional customs duties and tariffs from its trading partners across the English Channel.  
Davis also announced that there would not be a second vote to overturn the first one, saying that those who voted 'remain' have accepted the result.  
Sources:
https://www.ft.com/content/2c3a2cc6-ab81-32e7-92bd-1f49863d22f5
http://www.ft.com/fastft/2016/09/05/brexit-minister-rejects-possibility-of-second-referendum/?siteedition=intl